Da Redação, 08/07/2017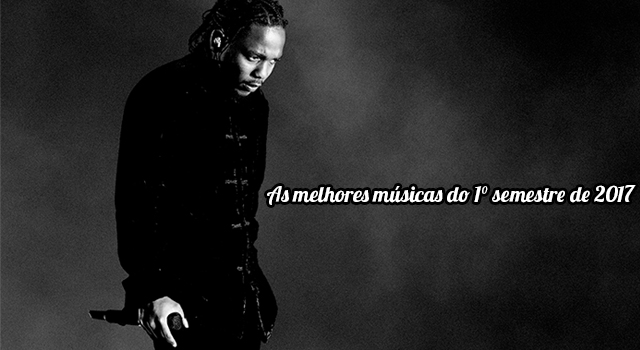 ​
Com o fim do 1° semestre decidimos divulgar a nossa lista das 50 melhores músicas do ano até agora.
Nomes como Kendrick Lamar, Sampha, Drake, Brockhampton, Lorde, Thundercat e Paramore estão entre os artistas que tem pelo menos duas entradas na seleção, que é caracterizada pela distribuição entre gêneros como hip-hop, r&b, pop e alternativo.
Confira as nossas escolhas, em ordem alfabética, e ouça nossa playlist abaixo:
Arca - Desafio
Arcade Fire - Everything Now
Brockhampton - STAR
Brockhampton - GOLD
Calvin Harris feat. Frank Ocean and Migos - Slide
Carly Rae Jepsen - Cut To The Feeling
Drake - Passionfruit
Drake - Get It Together
Father John Misty - Pure Comedy
Fleet Foxes - Third of May/Ōdaigahara
Frank Ocean - Chanel
Future - Mask Off
Gorilla feat. D.R.A.M. - Andromeda
Grizzly Bear - Three Rings
HAIM - Want You Back
Harry Styles - Sign of the Times
Julie Byrne - Follow My Voice
Kamasi Washington - Truth
Kendrick Lamar - .DNA
Kendrick Lamar - .HUMBLE
Kendrick Lamar - .ELEMENT
Kodak Black - Tunnel Vision
Lana Del Rey - Love
LCD Soundsystem - Call the police
Lil Uzi Vert - XO TOUR Llif3
Lorde - Green Light
Lorde - Sober
Mac DeMarco - On the Level
Migos - T-Shirt
Mount Eerie - Ravens
Mount Eerie - Real Death
Paramore - Hard Times
Paramore - Fake Happy
Perfume Genius - Slip Away
Phoenix - J-Boy
Playboi Carti - Magnolia
Sampha - Blood On Me
Sampha - (No One Knows Me) Like The Piano
Sampha - Plastic 100°C
Selena Gomez - Bad Liar
Slowdive - Star Roving
Spoon - Hot Thoughts
Syd - All About Me
SZA feat. Travis Scott - Love Galore
The National - Guilty Party
The War on Drugs - Thinking of a Place
The xx - Say Something Loving
Thundercat feat. Kendrick Lamar - Walk on By
Thundercat feat. Michael McDonald & Kenny Loggins - Show You The Way
Vince Staples - Big Fish
Deixe seu comentário, marque seu amigo(a) que também curte os novos lançamentos e acompanhe o Top Songs nas Redes Sociais: Facebook, Twitter, Spotify e Instagram.