Da Redação, 28/02/2017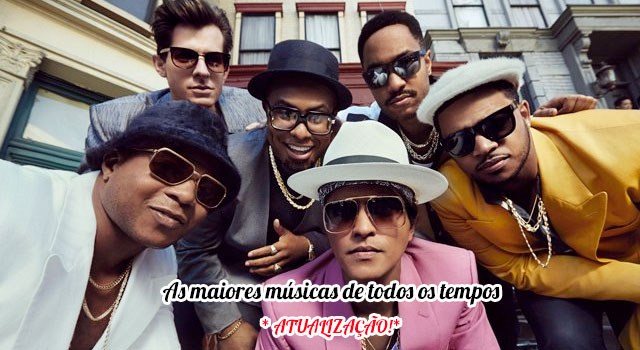 O Top Songs fez uma nova atualização da lista principal de músicas do site, onde foram aplicadas algumas alterações de posições e novas músicas adicionadas, sendo a maioria delas do ano passado.
A nova edição do ranking conta com algumas mudanças de posições no ranking, influenciado por novas publicações feitas por sites, livros e revistas do ramo musical durante esse último ano. A intenção do Top Songs sempre foi procurar possibilidades para ter capacidade de apresentar uma seleção de músicas que esteja mais próximo a uma realidade do que é ser considerada uma música aclamada, popular, influente e/ou que teve algum impacto cultural, ou seja, os critérios que o site aplica.
Quatro músicas, lançadas nos últimos anos, entraram no Top 1000, são elas: "Uptown Funk" (Mark Ronson feat. Bruno Mars), "Hello" (Adele), "Hotline Bling" (Drake) e "Shake It Off" (Taylor Swift).
Vale lembrar que todas as músicas contam com link onde podem ser ouvidas pelo Youtube e/ou Spotify e acompanhadas com letra e tradução da maioria da seleção.
Confira abaixo as principais mudanças da lista:
Posição antiga/Posição nova
Novas músicas no top 1000:
1006º/924º Mark Ronson feat. Bruno Mars - Uptown Funk
1040º/929º Adele - Hello
1148º/935º Drake - Hotline Bling
1075º/999º Taylor Swift - Shake It Off
Novas músicas no top 2000:
3111º/1551º Led Zeppelin - Immigrant Song
1699º The Beatles - With a Little Help from My Friends
1099º David Bowie - Blackstar
1403º David Bowie - Lazarus
1006º Beyoncé - Formation
1047º Drake feat. WizKid & Kyla - One Dance
1077º Rihanna feat. Drake - Work
1158º Kanye West feat Chance the Rapper, The-Dream, Kelly Price, and Kirk Franklin - Ultralight Beam
1178º Rae Sremmurd feat. Gucci Mane - Black Beatles1455º Justin Timberlake - Can't Stop The Feeling
1521º Fifth Harmony feat. Ty Dolla $ign - Work From Home
1600º The Weeknd feat. Daft Punk - Starboy
1607º Mitski - Your Best American Girl
1658º Solange - Cranes in the Sky
1810º The Chainsmokers feat. Halsey - Closer
1899º Calvin Harris feat. Rihanna - This Is What You Came For
1940º ANOHNI - Drone Bomb Me
Novas músicas no top 3000:
2050º Twenty One Pilots - Stressed Out
2067º Angel Olsen - Shut Up Kiss Me
2117º Justin Bieber - Love Yourself
2169º Sia feat. Sean Paul - Cheap Thrills
2199º Radiohead - Burn the Witch
2250º Bruno Mars - 24k Magic
2282º Lukas Graham - 7 Years
2349º The Chainsmokers feat. Daya - Don't Let Me Down
2400º D.R.A.M. feat. Lil Yachty - Broccoli
3601º/2406º Justin Bieber - Sorry
2450º Chance the Rapper feat. Lil Wayne & 2 Chainz - No Problem
2480º Desiigner - Panda
2491º Ariana Grande - Into You
3336º/2507º ZZ Top - La Grange
2581º Mike Posner - I Took A Pill in Ibiza
2602º Leonard Cohen - You Want It Darker
2672º A Tribe Called Quest - We the People...
2703º Car Seat Headrest - Drunk Drivers/Killer Whales
2754º Danny Brown - feat. Kendrick Lamar, Ab-Soul & Earl Sweatshirt Really Doe
2802º Beyoncé - Sorry
2901º Frank Ocean - Nights
2978º Frank Ocean - Ivy
3031º/2989º Alessia Cara - Here
3011º/2996º Kendrick Lamar - The Blacker The Berry
Músicas que deixaram o top 1000:
819º/2048º The Drifters - This Magic Moment
949º/1066º Kanye West - Black Skinhead
962º/1147º Christina Aguilera, Lil' Kim, Mya & Pink - Lady Marmalade
993º/1003º Drake feat. Majid Jordan - Hold On, We're Going Home
Músicas que deixaram o top 2000:
1045º/2219º Billy Joel - Honesty
1263º/5048º Duran Duran - A Matter Of Feeling
819º/2048º The Drifters - This Magic Moment
1539º/2404º Darren Hayes - Insatiable
1910º/2704º Remy Zero - Save Me
1989º/2001º Avril Lavigne - Girlfriend
1990º/2002º JoJo - Too Little Too Late
1991º/2003º KC & The Sunshine Band - Keep It Coming' Love
1992º/2004º Universal Robot Band - Dance & Shake Your Tambourine
1993º/2005ºThe Chemical Brothers - Do It Again
1994º/2006º Wild Cherry - Play That Funky Music
1995º/2007º Def Leppard - Love Bites
1996º/2008º Eddie Rabbitt - I Love A Rainy Night
1997º/2009ºSnow Patrol - Open Your Eyes
1998º/2010º Vanessa Carlton - Pretty Baby
1999º/2011º Eminem - Mockingbird
2000º/2012º Hot Chip - Ready for the Floor
Músicas que deixaram o top 3000:
2964º/3001º Spiritualized - Hey Jane
2965º/3002º Ja Rule feat. R. Kelly & Ashanti - Wonderful
2966º/3003º New Kids On The Block - Let's Try It Again
2967º/3004º John Lennon - Woman
2968º/3005º Morcheeba - Rome Wasn't Built In A Day
2969º/3006º Oingo Boingo - Just Another Day
2970º/3007º Eros Ramazzotti - Cose Della Vita
2971º/3008º Natasha Bedingfield - Unwritten
2972º/3009º James Brown - Night Train
2973º/3010º Joni Mitchell - A Case of You
2974º/3011º Kylie Minogue & Jason Donovan - Specially For You
2948º/3012º Lady Gaga - The Edge Of Glory
2975º/3013º Kenny Loggins - Meet Me Half Way
2976º/3014º The Arcade Fire - Keep the Car Running
2977º/3015º Michael Bolton - That's What Love Is All About
2978º/3016º Primal Scream - Swastika Eyes
2979º/3017º Offspring - Come Out and Play
2980º/3018º Chris Cornell - Can't Change Me
2981º/3019º The Beach Boys - Caroline, No
2982º/3020º France Joli - Come To Me
2983º/3021º Michael Jackson - Human Nature
2984º/3022º The Cure - Pictures of You
2985º/3023º 30 Seconds - To Mars The Kill
2986º/3024º Radiohead - Reckoner
2987º/3025º Duran Duran - Notorious
2988º/3026º Chaka Khan - Through The Fire
2989º/3027º Dirty Projectors - Gun Has No Trigger
2990º/3028º Ne-Yo - So Sick
2991º/3029º Commodores - Nightshift
2992º/3030º Marvin Gaye - How Sweet It Is (To Be Loved By You)
2993º/3031º Céline Dion - That's The Way It Is
2994º/3032º Iron Maiden - The Trooper
2995º/3033º Bonnie Tyler - It's A Heartache
2996º/3034º The Pipettes - Pull Shapes
2997º/3035º Warren Zevon - Werewolves of London
2998º/3036º The Stone Roses - Made of Stone
2999º/3037º The Pop Group - She Is Beyond Good and Evil
3000º/3038º Sam Smith - I'm Not the Only One
2682º/3552º Darren Hayes - So Beautiful
1263º/5048º Duran Duran - A Matter Of Feeling
2930º/5149º Lady - Easy Love
Abaixo separamos um índice com a lista principal, décadas e 2016. Relembre músicas aclamadas, influentes e de sucesso da história da música internacional:
As 5200 maiores músicas de todos os tempos
As maiores músicas da década de 50
As maiores músicas da década de 60
As maiores músicas da década de 70
As maiores músicas da década de 80
As maiores músicas da década de 90
As maiores músicas da década de 2000
As maiores músicas da década de 2010
As maiores músicas de 2016
Deixe seu comentário sobre o que achou da atualização e nos fale quais suas músicas favoritas. Marque seu amigo(a) que também curte as maiores músicas da história e acompanhe o Top Songs nas Redes Sociais: Facebook, Twitter, Spotify e Instagram.