Da Redação, 23/02/2017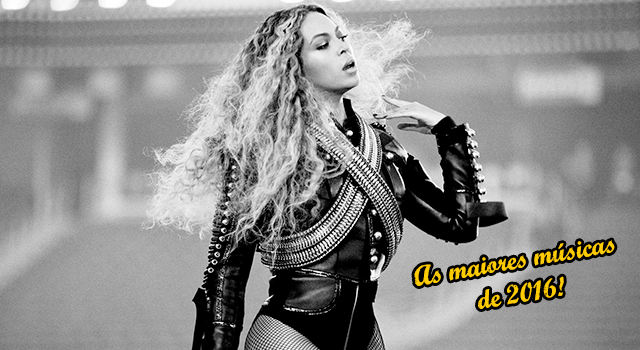 ​
Todos os anos o Top Songs faz a compilação das músicas que tiveram o melhor desempenho nos charts e vendas e, também, que foram eleitas como as canções mais aclamadas do ano.
Formam nosso top 5, a elogiada "Formation" de Beyoncé, o sucesso aclamado "One Dance" de Drake, que também aparece em "Work" de Rihanna. A ótima "Ultralight Beam" de Kanye West e o mega sucesso "Black Beatles" de Rae Sremmurd completam a seleção das melhores colocadas.
Confira o Top 25:
1. Formation - Beyoncé
2. One Dance - Drake feat. WizKid & Kyla
3. Work - Rihanna feat. Drake
4. Ultralight Beam - Kanye West feat Chance the Rapper, The-Dream, Kelly Price, and Kirk Franklin
5. Black Beatles - Rae Sremmurd feat. Gucci Mane
6. Can't Stop The Feeling - Justin Timberlake
7. Work From Home - Fifth Harmony feat. Ty Dolla $ign
8. Starboy - The Weeknd feat. Daft Punk
9. Your Best American Girl - Mitski
10. Cranes in the Sky - Solange
11. Closer - The Chainsmokers feat. Halsey
12. This Is What You Came For - Calvin Harris feat. Rihanna
13. Drone Bomb Me - ANOHNI
14. Shut Up Kiss Me - Angel Olsen
15. Cheap Thrills - Sia feat. Sean Paul
16. Burn the Witch - Radiohead
17. 24k Magic - Bruno Mars
18. 7 Years - Lukas Graham
19. Don't Let Me Down - The Chainsmokers feat. Daya
20. Broccoli - D.R.A.M. feat. Lil Yachty
21. No Problem - Chance the Rapper feat. Lil Wayne & 2 Chainz
22. Panda - Desiigner
23. Into You - Ariana Grande
24. I Took A Pill in Ibiza - Mike Posner
25. You Want It Darker - Leonard Cohen
Ouça nossa playlist:
Clique aqui e veja a lista completa!
Não esqueça de deeixar seu comentário sobre o top, marque seu amigo(a) que também curte os sucessos de 2016, e acompanhe o Top Songs nas Redes Sociais: Facebook, Twitter, Spotify e Instagram.